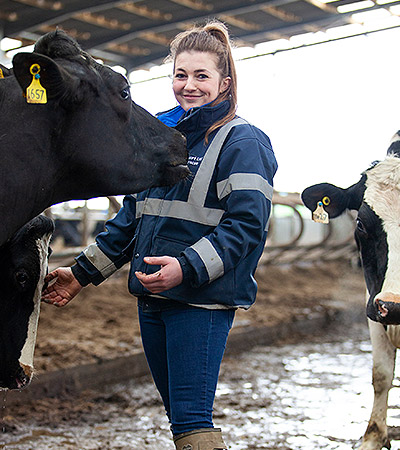 I'm an assistant farm manager in North Devon, managing a 950 cross-bred extensively grazed dairy farm. Born and raised in the city of Bristol, I'm now a typical country folk. At the weekend you'll normally find me and my dogs on somebody else's farm!

I chose to apply for a position on the Velcourt Trainee Farm Manager scheme (livestock based) because the advert appealed to me in every way. Progression is something that I was aiming for and wasn't an option for me at my previous employment. 
I'm not from a farming back-ground so I have no farm to go home to. I did not get involved in agriculture until the age of 20, starting on a small family dairy herd on weekends. Seven years later i now share the responsibility for more than 1,000 cattle. Having completed the Velcourt Training Scheme, I'm now assistant farm manager at Velcourt Ltd Fortescue. 
Here at Fortescue in north Devon we milk 950 cross-breed cows. They are spring block calving and extensively grazed, and their milk is sold for cheese production. The cows are split into two separate herds but are run as one business. I work alongside the farm manager- Sam Briant-Evans, so my role on the farm is mainly to help with the management and record keeping.
I also undertake practical work on the farm wherever I'm needed, whether its feeding/ milking/ calving etc as I think it is important to have an involvement with every aspect of the work we employ our staff to do.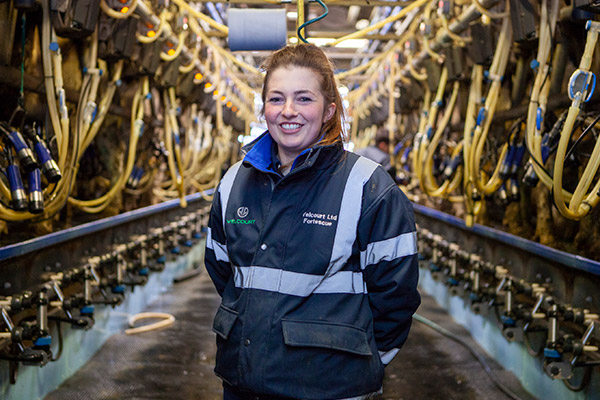 Our farm is a unique dairy business within Velcourt, as we are the only tenant farm business, so I don't have any involvement with the farm owner.
I am very lucky to be provided with a nice farm house here on our biggest of the two dairies, so I only have to walk out of the house to get to the office! There is a truck on the farm which I have the responsibility for, so I don't have to use my personal vehicle for work.
Velcourt have a lot to offer a new entrant into farm managing; working alongside experienced managers, access to a wealth of information, training days, support from the line manager and other farm managers, networking with other farm managers and trainees in the group, a job and a house on a work placement, a works vehicle (including travelling costs) and mobile phone, and a competitive salary.
I hope to progress to be a farm manager in the future. Continuing to learn within my current role or anywhere else that I may move onto. I wish to be a part of a profitable and sustainable farm which delivers top end results from efficient farming. Cow welfare and production are high priorities for me in achieving this. Whether it be from a grass-based system similar to here at Fortescue or a high yielding herd. 
Velcourt have a genuine interest in developing people, which is not a common quality amongst other farming businesses.
They don't fear for over qualifying people because progression within the company is an option for those who wish to develop their career.