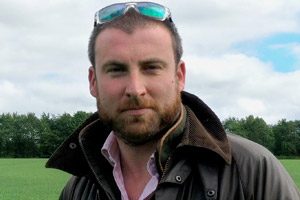 Velcourt Regional Agronomist Kieran Walsh has been working with the team at Harper Adams since the start of the Hands Free Hectare project in 2016. Despite living more than 200 miles away from the autonomous project, Kieran uses new software to provide remote agronomy.
What is Hands Free Hectare: The Hands Free Hectare (HFH), is a project run by Harper Adams University and Precision Decisions Limited. The HFH project started in 2016, with the aim of being the first in the world to grow, tend and harvest a crop without physical operators or agronomists on the ground.
The History:
Members of the Harper Adams University engineering staff, supported and led by precision farming specialist Precision Decisions Ltd, first started in 2017 season by attempting to grow and harvest a hectare of Spring Barley, all without setting foot in the field. The crop was successfully harvested with a yield of 4.5 tonnes. In 2018 the team was supported by the AHDB to grow its second crop of Winter Wheat.  The aim this time around was to to improve the machinery's accuracy and so improve field coverage, ultimately leading to a more competitive yield. Drilling misses fell from 2.82% in the first year to 0.35% in the wheat crop, helping the team achieve a respectable overall yield of 6.5 tonnes, despite late drilling and busy schedules.
What's next:
Since then the project has gone from strength to strength, winning a number of awards and gaining worldwide attention, with articles, blogs and broadcast items appearing in 85 countries. The HFH team has now expanded from one hectare to a 35 hectare farm, farming completely autonomously. The new Hands Free Farm will be a three-year-long project, run in partnership between Harper Adams and Precision Decisions, along with a new partner; the UK division of Australian precision agriculture specialist Farmscan AG. The goal is to have multiple small unmanned vehicles working together seamlessly in the same fields, all remotely monitored and completing all the tasks you would expect in a commercial farm. Kieran is on board the 3-year Hands Free Farm project. Velcourt and Kieran are very proud to be supporting the project, alongside a consortium of in-kind sponsors, along with welcoming a number of new organisations.
Where can you find out more information?