As part of the Velcourt Arable Scholarship I am completing my 15-month university placement working at Velcourt's Fonthill Contracting, a 3,300 hectare arable farming business in Wiltshire.
I started my placement in July 2021 and after just a couple of weeks I was thrown in at the deep end and given the task of running Fonthill's 100 tonne per hour continuous flow drier and 15,000 tonne grain store. This was a huge challenge as I had never dried any grain before or worked in a grain store of this scale. In an August where grain moistures did not drop below 15.5%, there was plenty of drying to do! All of the spring malting barley, around 90% of the wheat and about fifty percent of the oats had to be dried. I had to learn on the job quickly and figure things out for myself whilst being independent.  Most of the time I was left alone to manage the grain store, drier and weighbridge.  On busy days during harvest there were five combines sending grain to the yard so, as you can imagine, grain was coming in thick and fast!  This definitely taught me how to cope under pressure and improved my logistical skills. I didn't get everything right but I learnt from my mistakes to try and improve my working practices.
To do my job, I get to operate a 300hp Case Optum tractor and after harvest, amongst other things,  I drilled cereal-free cover crops, which again is something I hadn't done before. I am very much looking forward to spraying, drilling and cultivations, and learning from everyone's knowledge and experience on the farm.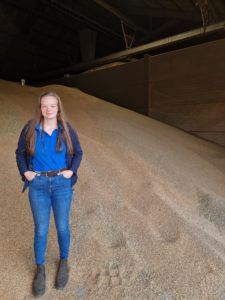 The Harper Adams Scholarship provides an incredible opportunity to learn about and how to operate all the machinery on the farm whilst being able to shadow the farm manager to learn about agronomy and farm management. You are given a lot of responsibility and need to be able to cope under pressure and in new situations so you have to learn quickly, but if you put the time and effort in and rise to the challenge you develop as a person and you will gain a lot from the placement. I still have a lot to learn but I know that I will leave Fonthill as a changed person, with a wider breath of knowledge of the arable and farm management sectors and I will be a more experienced and competent arable operator, at the most part as a result of the help and support the team at Fonthill are willing to give me.
I have been lucky enough to grow up on my family's arable and sheep farm in Staffordshire, allowing me to be involved in farming from a young age. In 2016 I established a small commercial pedigree Texel sheep flock, of which I have full management and husbandry responsibility. Unforeseen events made management extremely hard, however this taught me perseverance and the importance of a flexible and realistic forward-thinking approach that acknowledges lessons learnt previously, in order to create a viable enterprise. This ignited my passion for farm management as I enjoy the independence, application of knowledge and seeing the impact of my decisions. Furthermore I have always been really involved in the arable side of the business through the whole lifecycle of the crops – as I am really interested in the influence of different farming mechanisms and agronomy practices on crop outputs.
In 2019 I started a four year, Batchelor of Science degree course in Agriculture at Harper Adams University. I very much enjoy gaining a breath of knowledge learning in depth about farming's underlying technological and scientific concepts, business management, and practical skills.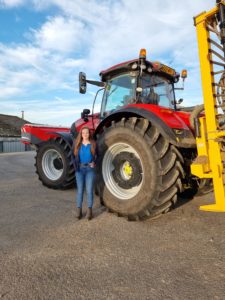 When I first started university I read about the scholarship and it was something that I was very interest in. I have always enjoyed working on my family's farm particularly on the arable side, the management of the farm and trying to incorporate new techniques and practices. After my first year of university I did a harvest job in Cambridgeshire on a 810ha arable farm. This really sparked my interest for large-scale arable farming using modern techniques and precise agronomy, further motivating me to apply for the scholarship. To enhance my employability and give me the opportunity to complete more on-farm tasks I went on to gain my spraying and telehandler certificates.
In my second year at Harper I applied for the scholarship, it was very competitive but thankfully I was awarded it, and now have the great opportunity to complete my placement with Velcourt with the potential for future selection for the Velcourt Management Training Scheme once I finish my degree.
I have always wanted to work in farming as it is a very diverse and challenging industry, with no two days being the same.
I don't have a vast experience of large scale arable farming but Velcourt have been willing to give me a chance and teach me the things I need to know. I have been thrown in at the deep end but I am doing my best to rise to the challenge and learn as much as I can.
I particularly want to work for Velcourt as they provide a bespoke, hands-on approach to farm management coupled with an intensive Management Training Scheme along with excellent career progression which is supported continual development and training. Their R&D into innovative arable techniques allows the company to use science to influence their farming practices, allowing consistent progression. I am very keen to get involved to help navigate a sustainable path for farming in the future.
My ambition for the future is to become an adaptable and forward-thinking arable farm manager, in order to meet the vast challenges farming will face in the future. Therefore, after I have completed my placement and final year at university I would like to join Velcourt and complete the Velcourt Management Training Scheme, which includes agronomy training. As I want to be fully qualified to make informed decisions whilst working for a progressive company at the forefront of agriculture.
With few women in farm management I am very grateful to Velcourt for giving me this opportunity and I will work as hard as I can to make the most of it.