I have recently become Farm Manager on a dairy farm in Dorset. We milk 450 cows, suppling milk through a premium contract to Marks and Spencer. The main focus of the business is centred around milk production, this encompasses; herd management, the growing of forage crops, right through to farm infrastructure projects. 
The farm is a relatively new Velcourt contract and a very exciting place to be, with lots of changes and new projects taking place, such as the construction of a new slurry lagoon.   
My main responsibility is to oversee all operations on the farm. I have a close relationship with the owners, M & S and our veterinary group Endells, to ensure the highest welfare and production standards are met and surpassed. Alongside creating a sustainable business for the future. It is an extremely varied role that involves getting hands on in all aspects of the farm as much as I can. This keeps me in touch with what is happening on the ground, and allows me to see the effectiveness of management decisions that are being made.  
I grew up in North Devon, alongside spending many of my younger years living in the Middle East due to my parents' line of work in aviation. Summers where often spent at home, where I was always involved in agriculture in some way. My main memories are of county shows or playing toy farms with my Grandparents. After moving back home permanently, I went on to complete my GCSE's and A levels at the rural West Buckland School, furthermore increasing my exposure to agriculture, but never actually considering a career within the industry. At the age of 15 I started my first summer job on a local new build poultry unit, opening my eyes into the modern world of farming. This soon expanded into work on local dairy farms and work began to fill any free time. I quickly became fascinated by the world of dairy and how much goes into the production of a humble pint of milk. When looking to become qualified and more importantly employable, I decided to apply to Study at Harper Adams University, where I completed my degree in June 2020.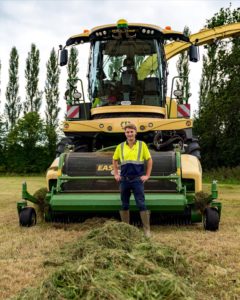 During my first term at Harper, I attended the annual launch of the Velcourt dairy scholarship and decided to apply without expecting to achieve much. It was my first nerve racking formal job interview, something I hadn't experienced in the industry before. To my surprise I was one of two that year to be granted the scholarship and placement job. This was a great recognition of my hard work and how far I had progressed so far.   
 I undertook my placement year on the Drax estate in Dorset. Millers Dairy was a 280-cow high health, predominantly grazing herd, focused on the reduction of disease through preventative rather than reactive measures. My role was assistant herdsman allowing me to be fully immersed in a dedicated forward-thinking team. There I was involved in the development of herd health plans, reducing antibiotics usage, and maintaining a very high Johnes management protocol, a side to dairy farming I hadn't previously had such in-depth exposure to. Furthermore, I was able to work closely with members of Synergy farm vets giving me a great opportunity to extend my knowledge base.  
Following placement, an opportunity arose to spend time on new 250-cow unit in Zimbabwe. This was a system based on grazing alone with cows being milked through a mobile milking parlour, an exciting new business I was lucky enough to work with. This challenged my skills previously learned, having to adapt them to a new environment, alongside disease risks I hadn't encountered before. My job role was heavily based on staff management and training, an opportunity hard to find in the UK at a young age.  
After graduating from university, I was appointed as a Trainee Farm Manager at Clinton Devon Estates. It gave me the opportunity to work in a very different business structure to what I had previously worked in. We worked very closely with the estate, managing their 750 head of cattle across two farms. My main role was to assist the farm manager in day to day operations on the farm, this allowed me to work with a large team and help me build on my people skills, a very important part of my current role. The opportunity to work with experienced staff alongside an organic system was of great benefit, providing me with key transferable skills to tackle conventional systems with a different approach.  
 My main desire to pursue a career in the dairy industry is the diversity the job offers and having to combine multiple skillsets in order to be effective in my role. The Velcourt scholarship and Management training scheme have provided me with the freedom to enter into the world of farming I didn't realise was possible. The ability to work with likeminded; experienced people has been a great benefit, allowing me to draw on past experience in order to handle situations that arise on a day-to-day basis. The overall experience has taught me not to shy away from any opportunities that are presented, a mindset that I will carry through as my career progresses within Velcourt.